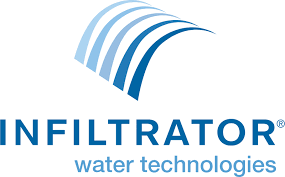 Job Description

Overview


Headquartered in Old Saybrook, CT, Infiltrator Water Technologies is the leading provider of engineered plastic chambers, synthetic aggregates, tanks, advanced wastewater treatment systems, and accessories for the onsite/decentralized wastewater and storm water management industries. The majority of Infiltrator products are manufactured from recycled plastic. Founded in 1987, we operate throughout the US and Canada with 8 manufacturing plants in the US, dedicated sales, and corporate team members. Infiltrator is a pioneer in innovative plastic technologies for underground water management. Infiltrator components are used in most onsite septic systems installed in the United States and Canada. Infiltrator is a proud Corporate Partner of Habitat for Humanity and each year donates components for 50 septic systems serving Habitat homes in North America. Infiltrator is committed to advancing the state of the art in all fronts, including product design, manufacturing, materials, wastewater science, marketing, management, and employee development. In other words, we strive to be the best we can be.
Responsibilities
JOB DESCRIPTION:
Support commercial projects group by managing all phases of project life cycle from receipt of purchase order through system commissioning.
Responsible for preparing technical document packages and issuing them to customers. Document packages will include equipment specifications, material cutsheets, relevant project drawings and equipment operation and maintenance manuals.
Responsible for reviewing and approving project drawings general arrangement (GA) drawings, fabrication drawings and/or assembly drawings.
Responsible for defining project scope of supply and developing project equipment lists and bills of materials (BOMs).
Responsible for developing a detailed project schedule and for monitoring progress during execution.
Responsible for providing project updates to various stakeholders. Serve as a liaison between customer and ops team.
Responsible for tracking project costs to ensure they are within budget.
Responsible for occasional travel to customer and vendor meetings, site meetings, and start-up training.
QUALIFICATIONS:
Bachelor of Science degree in a technical field. (BS in Mechanical or Electrical Engineering preferred). Substitution of experience as a project manage in an ASME certified manufacturing facility allowed.
3-5 years of project management or project engineering experience seeing projects through their full life cycle.
Proven ability to complete projects according to the outlined scope, budget, and timeline.
Experience using project management software tools such as Zoho Project, Microsoft Project, or Primavera.
Proven problem solver who is detail oriented.
Experience with MS Office products including Word and Excel.
Excellent analytical and organizational skills
Excellent written and verbal communication skills
Experience using enterprise resource management (ERP) software.
Preferred Skills:
Experience with wastewater systems preferred but not required.
Experience working in a manufacturing facility.
Familiarity with metal fabrication, machining, and general production activities.
Proficient user of AutoCAD for 2D drawings and SolidWorks for 3D modeling and drawing creation.
Experience with field troubleshooting and supporting equipment commissioning activities.
Apply Here
PI194190478
Preferred Years Of Experience:
3
Year(s)
Employment/Position Type:
Full Time